6 Coyle Field CLOSED UNTIL FURTHER NOTICE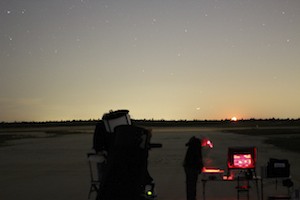 Coyle Field, NJ is in the Pine Barrens. This is a restricted/gated site maintained by the State of NJ and primarily used for military air drops practice. However, admission to the field through State licensing is pending while the West Jersey Astronomy Society works out details.
If you are interested in observing at Coyle Field with DAS, be sure your DAS Yahoo Group preferences are set for individual emails so that you can receive prompt notice of DAS plans for observing sessions there. Remember, access is restricted, please, contact This email address is being protected from spambots. You need JavaScript enabled to view it., former DAS Observing Chair, for more details.
Please click here for a google map with directions to Coyle Field, howver, currently, it is illigal to access the field.
Forecast Websites: Wunderground, Accuweather, Weather.com, Intellicast, NOAA Forecast
Weather Map: Wundermap Forecast Map: Unisys
Satellite Pictures: NASA IR Eastern United States, NASA IR Animation Sequence, NOAA