4 Blue Mountain Vista Observatory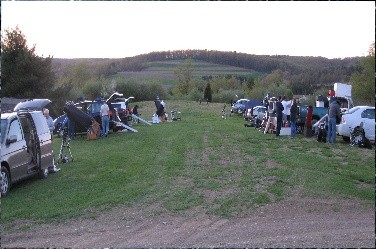 Blue Mountain Vista is an observing location owned and operated by DAS member Frank Colosimo near New Ringgold, PA. It is in a very dark location, on top of a ridge with a beautiful open sky.
If you are interested in observing at the BMVO with DAS, be sure your DAS groups.io preferences are set for individual emails so that you can receive prompt notice of DAS plans for observing sessions there.
Please visit http://www.star-watcher.org for details. The photograph above is from his site.
Please click here for a google map with directions to Blue Mounain Vista Observatory
Forecast Websites: Wunderground, Accuweather, Weather.com, Intellicast, NOAA Forecast
Weather Map: Wundermap Forecast Map: Unisys
Satellite Pictures: NASA IR Eastern United States, NASA IR Animation Sequence, NOAA