DAS ATM Sig
The Delaware Astronomical Society
Amateur Telescope Making
Special Interest Group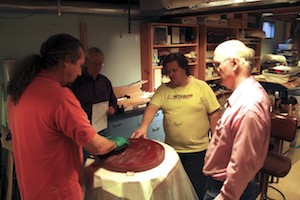 The DAS Amateur Telescope Making (ATM) Special Interest Group (SIG) meets according to the availability of the SIG members.
The ATM SIG includes:
all manner of telescope making
mirror making,
telescope testing,
making of telescope accessories.
new telescope tubes,
secondary mirror holders,
making solar filters for telescopes and binoculars.
In particular, we've made telescope mirrors from scratch and completed some that members have had in the works from as far back as the 1960's.
Anyone interested in joining the ATM SIG should email their name, address, and phone number to This email address is being protected from spambots. You need JavaScript enabled to view it.
Amateur Telescope Making Articles
John Dobson was an extremely talented telescope maker and promoter of astronomy. He invented the famous Dobsonian Telescope which is now a classic telescope design. Rob Lancaster, a DAS ...
Upcoming SIG Meetings
No events found